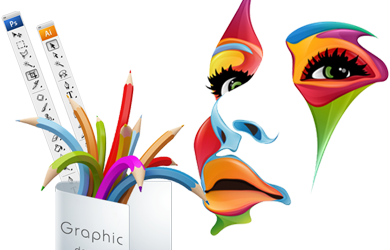 Graphic design is a highly recognized element in online marketing and advertising and very important to business success. From branding to product promotions, it benefits to invest in good graphic designs that are visually appealing.

Our Speciality

Creating A Lasting Impression – As per the latest statistics, 93% of people said that visuals affect their buying decision. Research also indicates that social media posts with images are 650% more engaging than text-only posts.

Custom-Designed Graphics: We create customized graphic designs tailored to client's needs.

Wide Selection: Our Graphic designers provide you several design options to choose from and approve for final selection.

Varied Design Types: Whether you need a cartoon character, tattoo, illustration, animated design, or high-quality 3D graphics, gifs, videos, we cater to all your graphic requirements.

Branding Guide: We help you with all your branding needs and guide you on a suitable selection of colour, font, pattern, and style for your graphics so that you can effectively convey your brand message to the audiences.

Timely Delivery: All of our creatives are delivered well within the specified time, complete to the satisfaction of our clients. Our turnaround times are the lowest in the industry.

End-to-End Design Services: Our graphic designing services team, actively coordinates with your internal team and takes care of the entire process from design concept creation to completion and everything in between.
Inquiry Now